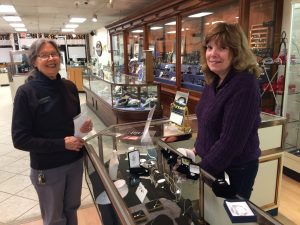 In celebration of Good Fortune Jewelry and The Pawn Shop of Keene's new business consolidation, the companies are hosting a holiday party for our customers on Wednesday evening, December 14th from 5 to 8pm. There will be fun and games, plus refreshments and more at the store.
Good Fortune Jewelry and The Pawn Shop of Keene recently completed a merger and now share the same space at 110 Main Street.   Almost 25 years ago both businesses began under the same roof and have now returned to their original location.   In this photo, veteran Good Fortune Team Members Karen Smith and Deborah Faucher design one of the store's many jewelry displays.
"Before the move, our customers had been asking us to consider putting a connecting doorway between both stores," said owner Roger Weinreich.   "After some deliberation, " he continued, "we decided that our staff and customers would have much more fun if we were all together in one place".
"The jewelry consignment and pawn shop model has always worked well for us," said Weinreich, "and now buying and selling pre-owned merchandise has become fashionable."   Thanks to the Pawn Star reality TV show, Pawn Shops have become increasingly popular. In addition, buying and selling Pre-owned Jewelry is beginning to trend throughout the country.
Plan to come meet the Gem Team at Good Fortune Jewelry.  They will be happy to share exciting facts about your jewelry. You can also chat with the Pawn Team and learn more about what goes on behind the scenes.  They have been around longer than the Pawn Stars of Las Vegas and have some great stories to tell.
Good Fortune Jewelry & Pawn is located at 110 Main Street in beautiful Downtown Keene, just across the street from the Colonial Theatre.   For more information call 357-7500 or email info@goodfortunejewelry.com